Sweet2Save may earn a small commission via affiliate links in this post.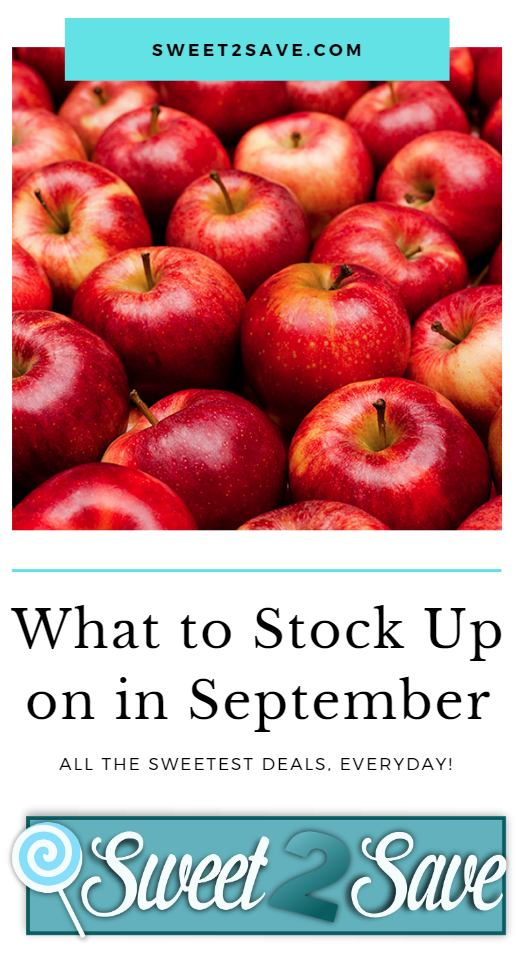 One of the best ways to save money every month is to get the best deals to stock up your pantry, refrigerator, and household – and then shop your own household for what you need all year long! Many stock up items and sales surround a theme for the season or holiday for that month. You'll find all of the best things to stock up in September right here!
What to Stock Up on in September
1. In-Season Produce
While September isn't the best month for most produce, there is one popular item that is at rock-bottom prices this month: apples! Don't forget, "an apple a day keeps the doctor away!" so these make a great snack! You can keep apples in the fridge to help them last a little longer – or even make applesauce or can them. Also in-season, you'll find good deals on squash, cantaloupe, cauliflower, eggplant, green beans, mushrooms, peppers, pumpkin, and sweet potatoes!
2. Back-to-School Snacks & Lunch Foods
We'll see lots of deals on lunch items and back-to-school snacks this month! Kids are settling into school and you'll get some great prices on these items. Check out all of our current Online Grocery Deals HERE!
3. Canned Goods
September is when we start seeing deals on canned goods. Tomatoes are one item that are at the lowest price this month, so be on the lookout for deals and be sure to check for printable coupons HERE!
4. Camping & Hiking Gear
In September, you'll see tons of clearance for camping and hiking gear!
5. Back-to-School & Summer Clothing (Lots of Clearance!)
This month, we'll still see lots of sales for back-to-school and summer clearance items – especially jeans, shirts, shoes, and more. Check out all of the current Clothing Deals HERE!
6. Grilling Items & Meats
Did you know Labor Day is the biggest grilling holiday of the year? Well, it is! You'll see some amazing prices on hamburgers, hot dogs, and steaks. September is the month to stock up on meat products and freeze them for future use. 
7. Outdoor Items: Gardening, Patio Furniture, Lawn Mowers & More
Summertime is officially ending – so again this month, we'll see some deep discounts on garden and outdoor items. Want to buy a hammock, new garden decor, or stock up on supplies to fertilize or treat your lawn? Now is the time to do it!