Sweet2Save may earn a small commission via affiliate links in this post.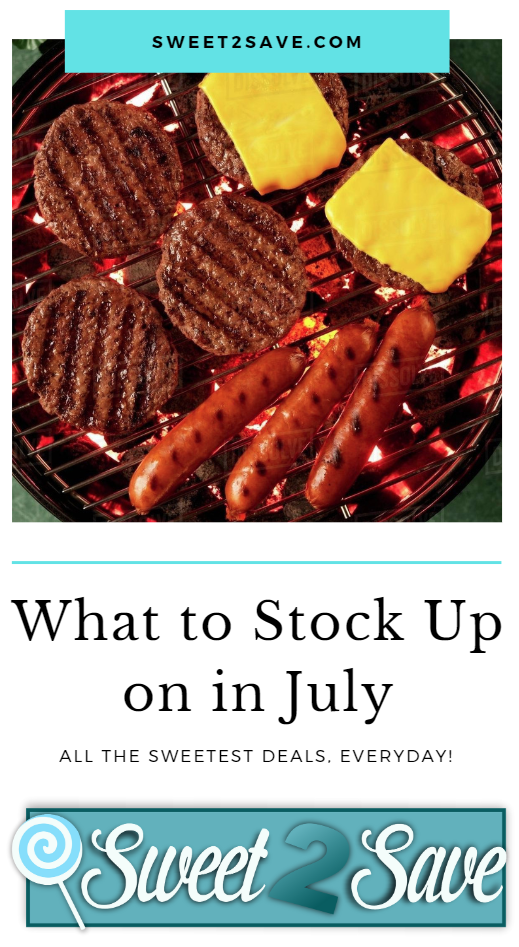 One of the best ways to save money every month is to get the best deals to stock up your pantry, refrigerator, and household – and then shop your own household for what you need all year long! Many stock up items and sales surround a theme for the season or holiday for that month. You'll find all of the best things to stock up in July right here!
What to Stock Up on in July
1. Seasonal Produce
Since July is the middle of the summertime, there are a lot of fresh fruits and vegetables in season. You'll find all of the following on sale: watermelon, strawberries, blueberries, cantelope, kiwi, peaches, plums and corn!
Coupons for fresh fruit & vegetables are tough to come by, but you can score deals at local farmers' markets – or check directly on some websites such as Driscoll's Berries… and although tough to find, you can sometimes score other fruit & veggie (and juice) coupons from brands such as the following:
2. Grills & Grilling Accessories
July is prime time for grilling and outdoor BBQs! You'll find lots of great deals on grills and grilling accessories right now! Check out the deals at Lowes and Home Depot.
3. Hamburger and Hot Dog Buns
Speaking of grilling – July is also a great time to score deals on hamburger and hot dog buns, along with condiments used for outdoor barbecues! You'll see these on sale this month in many stores – often for $1 or less!
4. Ice Cream & Popsicles
July is National Ice Cream Month! This means we'll also see some great deals on ice cream, ice cream bars, and popsicles. Be on the lookout for ice cream coupons to pair with the great sales that you'll see in grocery and large retail stores! You'll score great savings on ice cream, frozen yogurt, popsicles, and fruit bars. Check out all of the current Grocery Deals HERE!
5. Sunscreen
Summertime means beach time, lake time, river time, and vacation time… so sunscreen is always on sale! This is a great time to stock up for year-round. I live in Florida, so sunscreen is a must. Check out all of the current Summertime Deals HERE!
6. Bug Spray
Just like sunscreen, bug spray is definitely necessary in the summer months – and in July, we'll see great deals and coupons for bug spray. Head over HERE to find the current bug spray coupons!
7. Indoor & Outdoor Furniture
If you want to add some new furniture to your home – in July we always see some great deals! You'll find sales and even clearance on porch, deck and patio furniture. We also often see deals on indoor furniture and home decor!
8. Camping Gear
Since school is out, and July is prime camping trip time – you'll see lots of sales and great deals on camping gear, clothing, tents, and more! Look for coupons and deals on outdoor items for some summertime adventures.
9. Bed & Bath Linens
It's the perfect time to refresh your bedroom and bathroom in July! We see sheet sets, towel sets, comforters and more at rock bottom prices. Some of the best online sites to check are Wayfair, Zulily, and Kohls. You'll also see great deals at both Target and Walmart.