Sweet2Save may earn a small commission via affiliate links in this post.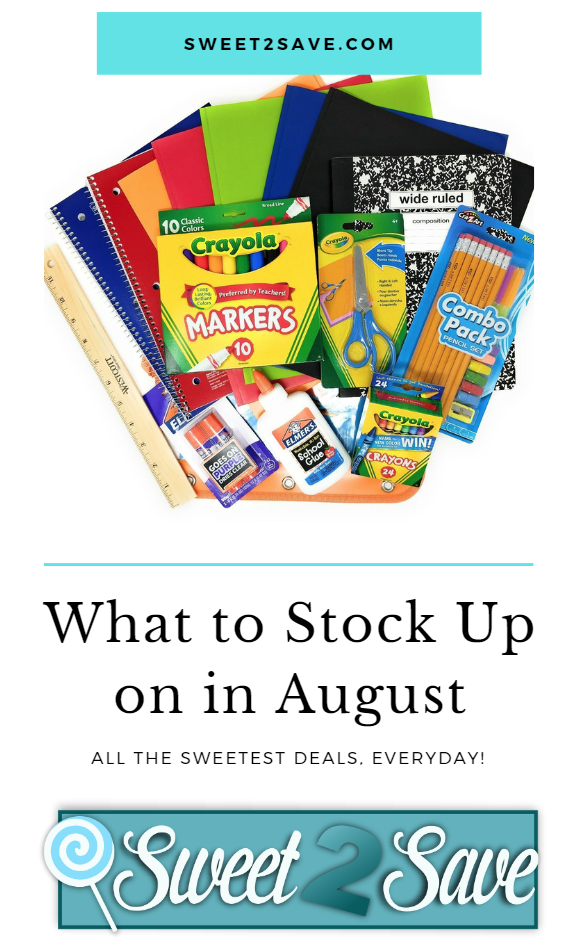 One of the best ways to save money every month is to get the best deals to stock up your pantry, refrigerator, and household – and then shop your own household for what you need all year long! Many stock up items and sales surround a theme for the season or holiday for that month. You'll find all of the best things to stock up in August right here!
What to Stock Up on in August
1. School Supplies & Office Supplies
You'll find the best deals on school and office supplies (pens, pencils, paper, notebooks, glue & more) this month! Check each week for deals at Staples, Walmart, Target, and more stores. We round up the best School Supply and Back to School Deals HERE!
2. Dorm Room Bedding & Decor (or Bedding for Kids' Room Refresh)
Bedding deals are abundant in August… and you'll see lots of dorm room bedding sales, so sheets and comforters for Twin XL. It's the perfect time to refresh your kids' twin beds or purchase new pillows, towels, or sheets.
3. Swimsuits
Since the end of summer is rapidly approaching, you'll find lots of sweet deals on swimwear. If you plan accordingly, you can score next year's swimsuits at a huge discount! You can choose the next size up for your kiddos for next summer too! Check out all of our current Swimsuit & Summer Deals HERE!
4. Lunch Box Snack Foods
In preparation for back-to-school, we'll see lots of snack and lunchbox snack sales on popular brands. You'll see these both in-store and online. Check out all of the current Grocery Deals HERE!
5. Backpacks
August is also when you'll see the best prices on backpacks! We've been sharing a lot of backpack deals – check them out HERE!
6. Jeans, Shorts & Back-to-School Clothing
This month, we'll see lots of sales for back-to-school – especially jeans, shirts, shoes, and more. Check out all of the current Clothing Deals HERE!
7. Garden & Outdoor Items
Summertime is at and end – so again, you'll see some deep discounts on garden and outdoor items. Want to buy a hammock, new garden decor, or stock up on supplies to fertilize or treat your lawn? Now is the time to do it!
8. In-Season Produce
In-season right now, you'll find the best deals on: avocados, bell peppers, berries, cilantro, corn, grapes, peaches & nectarines, summer squash, watermelon and zucchini.