Sweet2Save may earn a small commission via affiliate links in this post.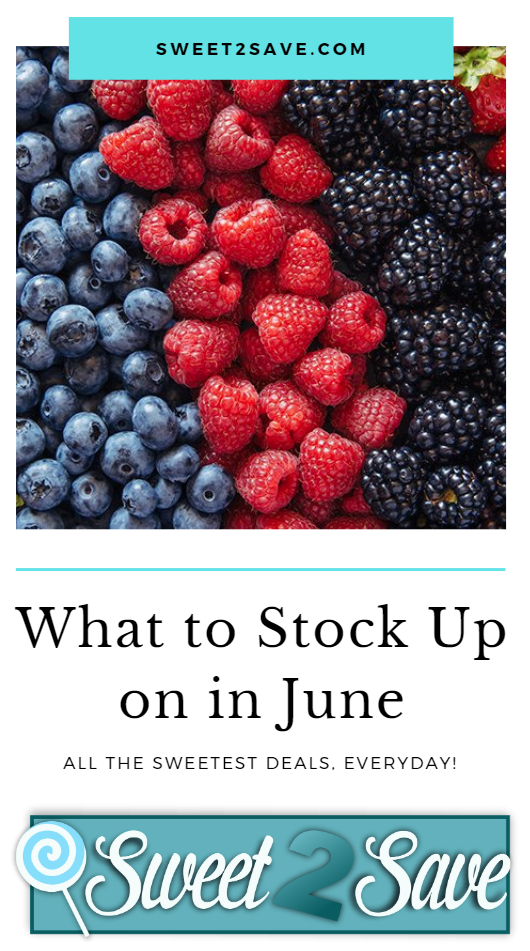 One of the best ways to save money every month is to get the best deals to stock up your pantry, refrigerator, and household – and then shop your own household for what you need all year long! Many stock up items and sales surround a theme for the season or holiday for that month. You'll find all of the best things to stock up in June right here!
What to Stock Up on in June
June is National Fruit and Veggie Month! There are a lot of fresh fruits and vegetables in season. You'll find all of the following on sale: apricots, blackberries, blueberries, boysenberries, cherries, corn, cucumbers, eggplant, grapes, honeydew, nectarines, peaches, potatoes, raspberries, strawberries, squash, onions (both red and Vidalia), tomatoes, and watermelon!
Coupons for fresh fruit & vegetables are tough to come by, but you can score deals at local farmers' markets – or check directly on some websites such as Driscoll's Berries… and although tough to find, you can sometimes score other fruit & veggie (and juice) coupons from brands such as the following:
2. Dairy Products
June is National Dairy Month! This means that we can expect to see products such as milk, cheese, butter, yogurt, cream cheese, whipped cream, and even eggs on sale all month. You can often find coupons for many dairy products also!
3. Headache and Pain-Relief Products
June is also National Migraine and Headache Awareness month, so you'll find deep discounts and coupons for pain relievers. Check out all of the current Personal Care deals HERE!
4. First-Aid Kits & Supplies
Since school is out, and June is prime camping trip time – you'll see lots of sales and great deals on first-aid kits and items. Look for coupons and deals on bandages, first-aid kits, antibiotic ointments, rubbing alcohol and peroxide, gauze pads and more. 
5. Women's Underwear, Bras, and Lingerie
June is when Victoria's Secret holds their semi-annual sale, which lasts 3-4 weeks in June. You'll find many items for as much as 70% off, and the discounts typically get deeper as the month progresses.
6. Cookware, Dishes & Home Items for the Bride-To-Be
Early summer is peak wedding season! Because of this, you'll score excellent home deals at Kohls, Macys, Dillards, Target, Walmart, Bed Bath & Beyond, and many more stores.
These sales include cookware, dishes, linens, home decor items, small appliances, and lots more. You'll find an abundance of both in-store and online home deals during June. See all the current Home Deals now!
7. Gym Memberships & Home Workout Equipment
Gyms are always eager to sign up new members at a discount during the summer months. By this time of year, a lot of people have given up on their New Year's Resolutions and cancelled gym memberships. 
8. Iced Tea Products
Did you know that June 10th is National Iced Tea Day? From this tea-loving household, this is something to celebrate. You'll find deals for all tea products, such as tea bags, loose tea leaves, powdered tea mixes, and more.
9. Frozen Treats
Since June is the official start to summer, you'll start to see many frozen treats on sale this month. You'll score great savings on ice cream, frozen yogurt, popsicles, and fruit bars. Check out all of the current Grocery Deals HERE!
10. Gifts for Dads
Since Father's Day is in June, look for deals on all kinds of things for Dad. Tools, grills, personalized items, and more. Check out all of the current Father's Day Deals HERE!